PENworks 2023 Annual Conference
May 4, 2023 (pre-conference & reception May 3)
Hybrid Event! -- Mystic Lake Conference Center, Prior Lake MN & Interactive Online!
Experience the region's largest, most powerful conference focused on continuous improvement and organizational excellence!

This year's conference theme reflects our collective aspiration of overcoming challenges, improving and/or sustaining high performance in 2023 and beyond -- ascending together! And the sub-themes of Connecting, Discovering, and Imagining will set a powerful framework for this year's session topics, focusing on concepts like innovation, resilience, people & relationships -- workforce & customer engagement, partnerships, visionary leadership, equity & inclusion, and others. We are excited to host what promised to be another powerful conference, focused on the best and emerging practices that facilitate excellence in people, organizations, and communities!
So invest in yourself, your team, and your organization! Three reasons to attend PENworks 2023:
It's an an affordable, high value professional development event, packed with insights, tools, best practices to help you navigate today's challenges and to begin to position for improvement, innovation, and future growth.
It's a hybrid event, offering the networking & energy of an in-person option or the convenience, efficiency & accessibility of an online option. Either way, the same great content, same great energy!
It's being recorded, so you'll have access to all proceedings after the conference: you can view ALL sessions, not just the one you pick to see live. Or watch one a few times to catch more insights. Now PENworks has a shelf-life!


Powerful Speakers! Powerful Insights!
We will also feature leaders from the country's highest performing organizations -- winners of the prestitigious Malcolm Baldrige National Quality Award -- who will share their insights & best practices for achieving and sustaining excellence, along with over a dozen local leaders, each sharing methods, insights, tips, and tools for improving leadership, workforce and customer engagement, innovation, and many other areas. Full schedule to be announced soon.
We are excited to offer a half-day pre-conference workshop that's focused on optimizing today's workplace! Facilitated by Bryan Williams, one of the most in-demand keynote speakers & facilitators in the country! This powerful session will focus on best practices to create and sustain a workplace that attracts and retains high performers. Special emphasis will be on developing a powerful onboarding experience for new team members and ways to drive personal accountability and team cohesiveness. Come explore ways to improve team engagement and address some of the challenges we all face with staffing.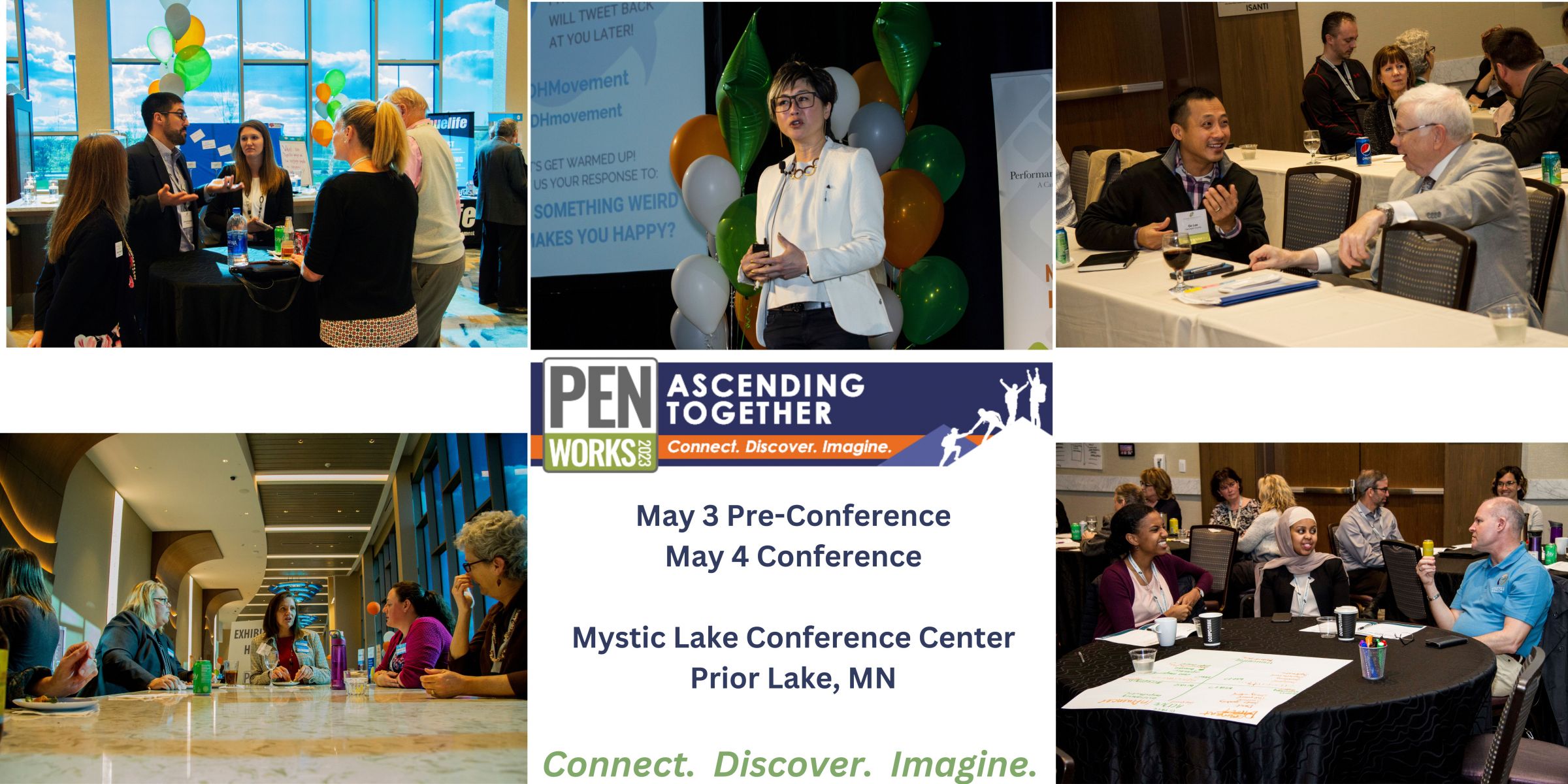 Calling all Sponsors & Exhibitors!
We are grateful for organizations and individuals who support PEN's mission and the PENworks conference as sponsors or exhibitors. If you are interested in sponsoring or exhibiting in PENworks 2023, please email brian [dot] lassiter @performanceexcellencenetwork.org


Hear What Others Have Said!
"PENworks is one of the best conferences I've attended in 30 years!"
-- Marvin Plakut, CEO, Episcopal Homes of MN, St. Paul
"PENworks is an absolute must for those driving improvement in their organizations. The caliber of learning opportunities is outstanding, and the atmosphere is energized by a netwrk of leaders eager to share their best practices." -- Michael Garner, Olmsted County, Rochester
"PENworks allows me to peer inside regional and national organizations who are leaders in their industry and learn from their best practices." -- Philip Zeccardi, Children's Hospitals and Clinics, Minneapolis
"I always look forward to the PENworks as a way to learn more about what's possible. I have gained valuable nuggets that I have been able to take back and apply immediately to my team's work. Content is timely, relevant, and can be used across multiple industries. Well worth the time!" -- LaToya Bell, State of MN, Department of Human Services
"This is one of the most affordable, high value conferences I've ever attended." -- Pam Helgeson-Britton, former Vice President, Strategy, Performance System and Process Excellence, Essentia Health, Duluth

---
PENworks 2023 Pricing
Conference rates start at $400. Early Bird, Group, & Member discounts available.
Full pricing listed on registration page:

CEU and Clock Hours Available
---
PENworks 2023 Location/Format
The conference will be a hybrid in 2023, hosted at Mystic Lake Conference Center (2400 Mystic Lake Blvd, Prior Lake MN 55372) -- as well as streaming live online. You may switch your preference up to three weeks before the conference (last minute changes to in-person allowed as space is available).
Hotel room block available at Mystic Lake Casino -- call 800-262-7799 and ask for "PEN" or "PENworks" rate.
Cancellation for full refund (either format, in-person or online) 14 days in advance -- April 20. Substitutions allowed anytime.